SET FABRICATION, DRESSING AND MODEL-MAKING
Currently based on London City Island in the AREBYTE Studios where I sculpt, make moulds and work as a freelance model-maker.
Here are some images of my work to date, if you have any questions, please don't hesitate to contact me directly on the contact page.
During my MA at the RCA, I designed and built several 1'6 scale sets including a long street which can be seen here.
This involved complex sculpting for the cobblestones, a mould was taken and they were subsequently cast, painted and textured.
Side walks were made and curbs sculpted and buildings were rendered and signs were laser cut, painted and rendered.
For this scene the fabrics needed to be shaped and moved, so the sheet was shaped around the puppets so that it would drape and give the illusion of weight but not move during the animation proces (stiff as a board). And the curtain needed to be rigges so that it could be animated.
Wires were treated so they bended in with the lace and were rigged against the wall so they had a base and could be moved.
1'6 scale newspapers using Photoshop and images from the 1980's archive.
1'6 scale magazines using Photoshop and images from the 1980's archive from the RTE Guide.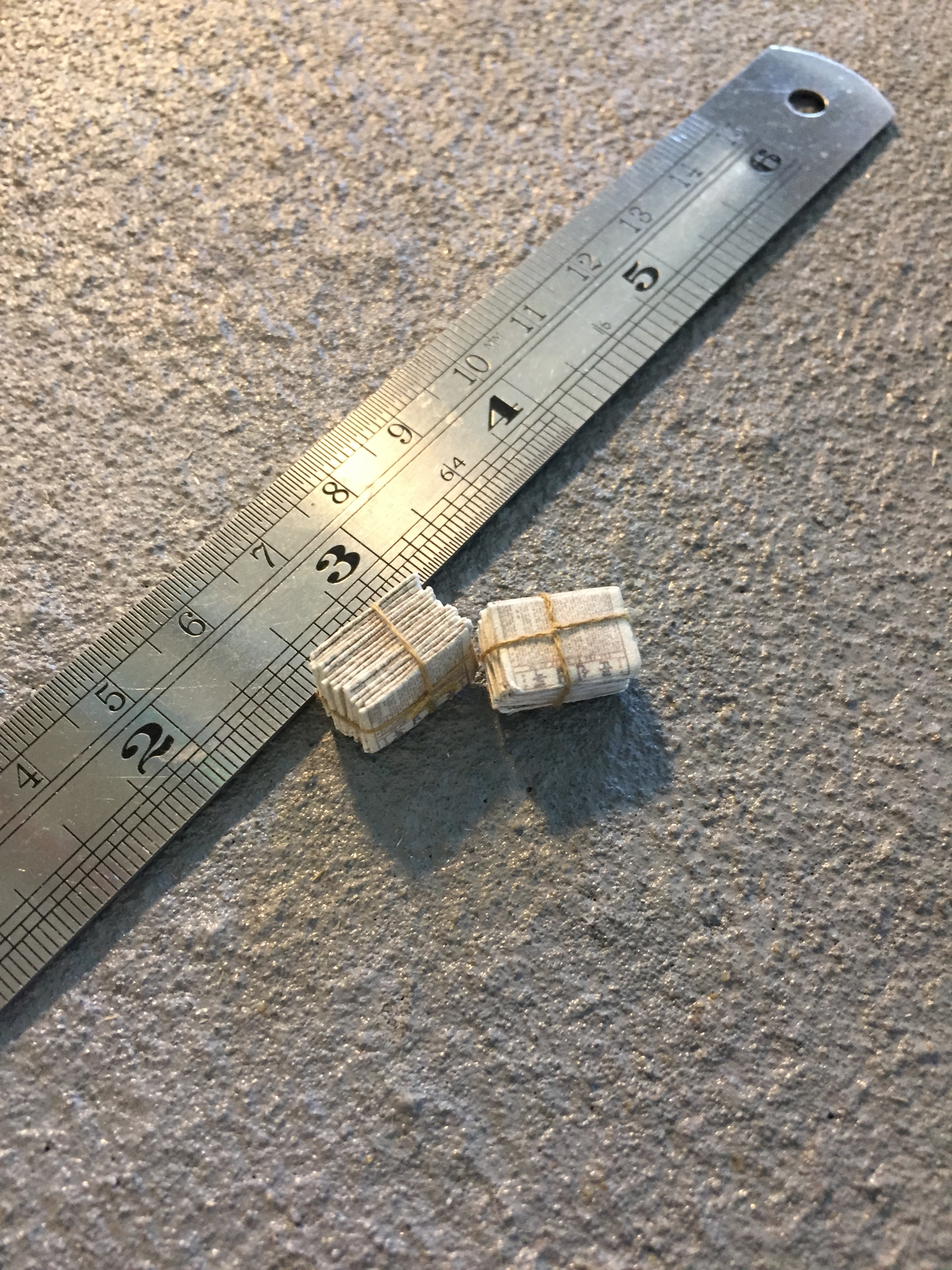 Tiny 1:50 scale newspapers made from printed paper downsized using Photoshop and held together by thread.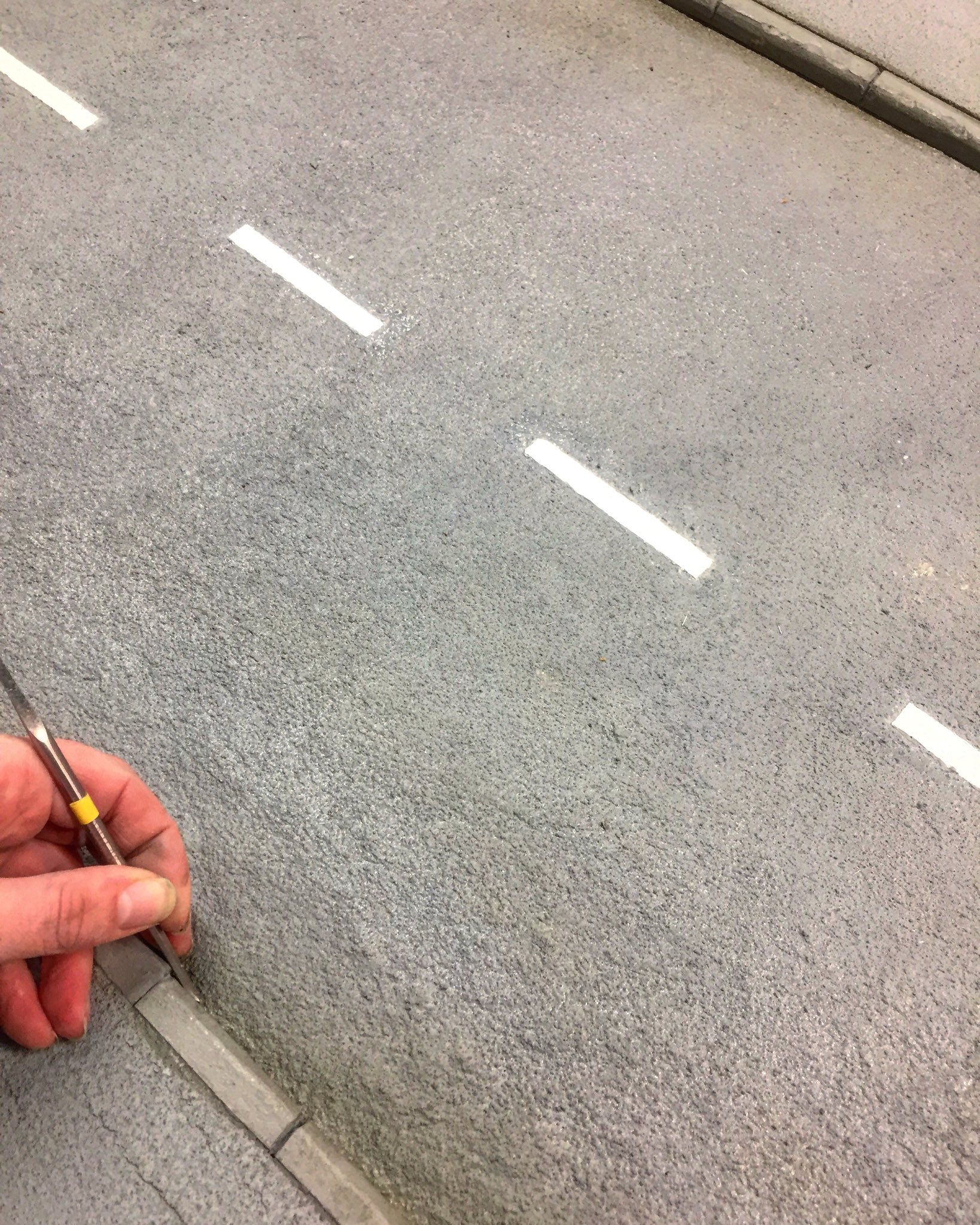 I love creating realistic roads and pavements using different materials and sculpting.
Sculpting and silicone mold-making, casting in plaster and painting.
With experience in using Illustrator and InDesign I created a batch of 1'6 scale notes (front and back) that aligned and printed them for cutting.
Using card and printing, I created 1'6 scale beer mats for my final year project as the RCA.
For 'BROKEN' I created a street scene and as part of this scene, I needed to grafitti and blast posters on the wall's of the buildings. These were printed to scale and researched as they needed to be relevant to 1980's Ireland/Dublin. They needed to be distressed, washed over and added to the set.
Most stores were closed down in my set and back painting as well as adding posters from the inside was needed. Here you can see this as well as most of the distressed posters which were ripped further.
As this street scene was abandonned, lots of bin bags were needed to line the streets.
Cereal designs needed to be sourced and then added to an InDesign template that I created in order to create cereal boxes in 1'6 scale and then cut into shape.
This was sculpted using chavant clay in order to be duplicated to make up the cobbled street that I created for 'BROKEN'.
Here I made a rubber mold so that I could duplicate the cobbled street as it was 1'6 scale and a total of 14 were made.
Throughout the MA we had lots of visiting tutors who would teach us how to sculpt and draw, this was from an evening class in sculping a bust using wax which I had not previously had experience with.
Resin & Fiberglass Mold Making
As I was creating a silicone puppet, I created a 2-part resin and fiberglass mold for my puppets. Here is an image of the puppet in preparation for the first half of the mold.
Resin & Fiberglass Mold Making
Here is another image of the mold being created.
After the first half was done, then this side needed to be cleaned and prepared for the final gel coat and layres of resin and fiberglass.
To avoid sawing at the end, the mold was 'greencut' while curing. After this, several points around the mold were drilled for screws and wing nuts to be attached for the silicone casting process.
PUSH
Here are a few pictures of the 'making of' my first year MA animation puppet from original textural and sculptural tests to final silicone puppet.
For this scene in particular I wanted to recreate 1980's carpet, however this particular one was not online. By chance I found it in a pub in Dublin and took some photographs, these were put in photoshop and duplicated in order to be printed onto velvet. This fabric 'grain' made the whole look to scale.
During my MA at the RCA I learned how to laser cutt and set up my file in Illustrator and set up a laser cutting machine. For this project, I laser cut all my shop front signs which were then spray painted and distressed when the set was being dressed.
Puppets were not involved in this scene, instead the gap was filled while the puppets were animated on another set after the impression of them was taken.